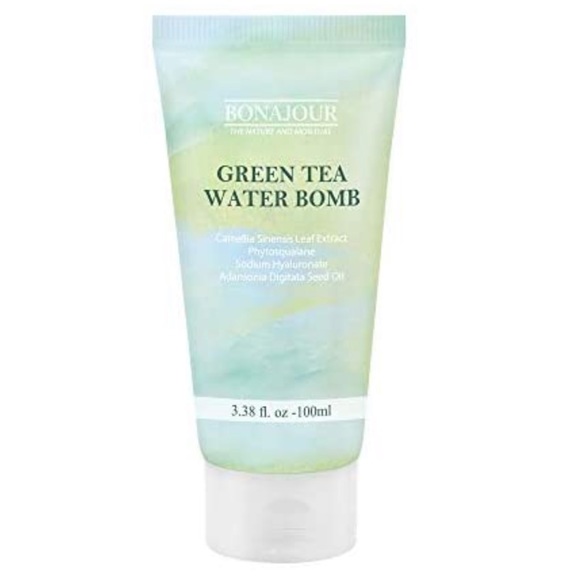 Ipsy wins again! In one of my Ipsy glam bags, I was able to snag Bonajour's Green Tea Water Bomb. While I use the mascara, eyeshadows, eyeliners and even the body scrubs I receive in my glam bags, I'm always hesitant to try facial products. I fear my skin having an adverse reaction to something I've tried or a product being too harsh for my skin.
During the month of June I sat in the sun for three straight days for approximately eight hours each day. My skin was four shades darker, dry and crisp. I was at the point of not having a foundation that was a good blend and I felt my skin needed some additional protection to survive the summer. I tried Cerave', which is actually a great product, but when sitting in the sun all day, sweating, Cerave's mositurizer would cause a light film that I had to wash off midway through the day. Unfortunately, this left my skin unprotected. Before purchasing another product, I started searching through my travel sized products I received from Ipsy and started reading the reviews for each product. After reading the reviews about the Green Tea Water Bomb, I decided to try this particular moisturizer while sitting in the heat at my next summer track meet.
The first thing I noticed about this product is how light it is. It actually revived my skin and brought my complexion back to life. It provided the protection I needed and even during the hottest part of the day, my skin felt cool and nourished. There was no need to refresh throughout the day and it minimized the amount of lotion/moisturizer I needed to use. I used this in the morning and my skin was secure throughout the entire day. More importantly, once my skin returned to its original shade, I noticed it never changed again. Even after sitting in the sun for six days straight, my skin maintained its color and its softness.
After using the Ipsy travel size, I ordered the full size from Amazon. It runs about $16 per bottle and is so worth it. I've stopped wearing foundation daily as this product provides a shine and a dazzle that makes it appear as if I have a light beat. When using foundation, I use a minimal amount and it helps keep my foundation in tact without having to freshen up throughout the day. This product definitely exceeded my expectations. Two thumbs up for Ipsy getting it right once again!